SIMPLE. RELIABLE. COMPLIANT.
INVESTOR RELATIONS WEBSITES
We offer proprietary, multi‐function IR websites that communicate your stock price, news and pertinent financial information to current and potential stakeholders in a seamless, efficient, and fully ADA and SEC compliant website module. Our IR website solution integrates seamlessly into your current website and far surpasses the current design elements and features currently on the market in our price range.
AD AGENCY QUALITY DESIGN. THE EXPERTISE OF AN IR FIRM.
With over 20 years of ad agency experience, we understand the importance of consistency and hi-quality design. While we have worked on both hi-profile brands and start-ups alike, we can be counted on to produce work which presents your brand in its best possible light. All of our IR sites use responsive design and acts as an extension of your current site. If you need a new corporate website, we can help you with that, too.
As important as the design, aesthetics, and technology behind our IR websites are, of equal importance is the thought process that goes into what to put where. From help with what to say, how to say it, or just wondering if what you want to say may be not be a great idea, we have 20 years of experience in the investor relations industry as well.
SIMPLE PRICING STRUCTURE
Our pricing structure is simple and is not based on your size or financial well-being. We have one price, and it is the lowest in the industry for a live feed service. We have a low monthly fee and a one-time fee to build out your custom IR website. If you're ready to get started, just click here and we can have you up and running in as little as two days.
SETUP & BUILDOUT OF CUSTOM IR WEBSITE
Design & layout
Three rounds of changes
Programming
A-record forwarding & setup on live url
MONTHLY IR FEED & HOSTING
IR feed
Hosting & SSL certificate
Unlimited non-feed updates
Unlimited support
ONGOING UPDATES
Do you ever find yourself wanting to make an update or a change to your website but don't want to go through the brain damage or pay the exorbitant cost associated with it? Those days are over. Just shoot us over an email and it's done. Usually within just a few hours, depending on when you send us the email. Or, if you prefer, you can make your own edits with our easy-to-use portal. Most everything on your IR site is automated, but for those items that are not (like Management, BOD, FAQs, Presentation swaps, etc.), you can make simple text edits in a matter of seconds.
We strive to make your experience with us simpler and less expensive. If there is ever anything that we can do for you, over and above our scope of work outlined here, just ask.
FREE EDITS & CHANGES
Charts, news, and press releases are all automated. But, content that isn't automated by our feed (like Bios, Corporate Governance, FAQs, etc.) are edited for no cost. Just let us know what you want to change and consider it done.
HOSTING WITH 99.9% UPTIME
With a 99.9% uptime, your hosting will be safe, secure and unlikely to go down right after that huge announcement. We also include SSL security with all of our IR websites.
ACCURATE DATA
Powered by Quote Media™, one of the largest engines in the industry. Also, choose to only show news from specific press release distributors, decreasing the likelihood of any negative news making it through your feed.
EASE OF UPDATES
All of your updates that are not automated are included. New board members or an upcoming event? Just shoot us an email and we'll update it within 24 hours.
LOOK & FEEL
Maintain continuity and seamlessly blend in with your current website. Or, we can build an entirely new website for your company as well. Just ask for details on our complete website builds.
INQUIRIES
We'll also add a newsletter or inquiry module on your IR page (or both). This can be directed to whoever you choose at your company or it can be sent directly to your IR firm.
LIVE QUOTES & CHARTS
Intuitive modules allow users to view live data on your company. Aesthetically pleasing displays peak current and potential investors interest.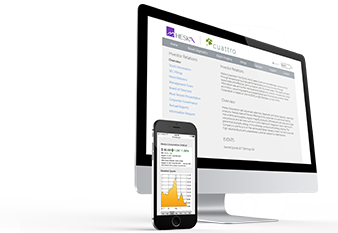 INSTANT NEWS & HEADLINES
Our embedded & customizable headline and news story module give you and your clients full and immediate access to press releases about your company. All automated, so there is nothing to physically remember or post.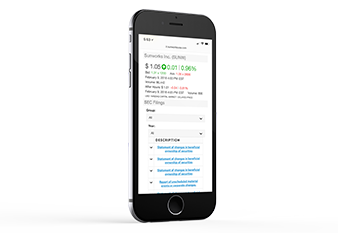 SEAMLESS INTEGRATION
Our Investor Relations websites seamlessly integrate into your existing website. We clone your existing header and footer and nobody will ever know they have left your site, which means nobody will ever have to leave your site to do research on your company.